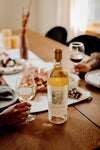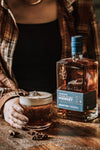 Our Happy Hour Shoot is coming up Nov 30th. Last day to sign up is November 20th.
What you get:


5-25 web resolution photos delivered in a gallery
Ability to order print resolution photos if interested
2 models in shoot
Access to 1 AirBnB shoot location
1 professional bartender prepping and supervising the shoot
We have a Happy Hour Shoot specifically for brands like yours.
Every month, we bring in 2 models to a rented Airbnb to get photos for brands. It's bulk discounted, since we do a bunch of brands all at once. For that reason, we can't follow any requested shot lists, but you get 5-25 lifestyle photos with models for a huge discount.
Your gallery could look something like this:  https://twistandtailor.pixieset.com/lockeandcojanuaryshoot/.
We aim for a variety of photos with models and different classic cocktails or neat pours (for spirits or wine, beer, etc. brands).
We Shoot With Your Brand In Mind
We will follow up on your order with a branding questionnaire to get info about how to shoot for your brand. You can specify in your branding questionnaire whether you have a preference between cocktails or neat pours, etc. 
We do the shoot with your brand in mind, so if you're more bright and airy or dark and moody, etc., we'll incorporate that. 
-----
If you have done a Happy Hour before, we encourage you to still fill out the questionnaire, in case anything has changed or if you're looking for a different approach to your summer marketing.
Big Savings!
Typically this a shoot for 20 photos would be a $325 shoot + $40 ingredients + $100 models + $100 bartender + $150 for the Airbnb, so it's a good deal. 
HOW IT WORKS
Just ship us your product, fill out your questionnaire, and sit back while we create beautiful content for your brand.
We'll send over an email with both the address to ship to as well as a link to your branding questionnaire.
After that, just wait until 1-2 weeks after the date of your shoot. At that point, we'll be sending over an online gallery with your photos.
THIS MONTH'S THEME
New Year's/Valentine's


Notes for this Happy Hour:
Cocktails and props will be winter or Valentine's focused.
RESTRICTIONS
Because of the bulk discount nature of this shoot, we cannot take shot lists or specific shot requests, but please feel free to let us know in case we can work it in for you. 
December Happy Hour Photo Shoot